ACCLAIMED GARDENS      TEA ROOM & SHOP
    SUMMER OPERA SEASON
The Gardens at West Green House are now open !
Wednesday to Sunday inclusive from 11am to 4.30pm
West Green House Gardens offers four seasons of beauty, contrast and inspiration. Created by acclaimed garden designer and writer, Marylyn Abbott and situated in picturesque North Hampshire, it is one of England's finest manor house gardens, marrying traditional style with contemporary design.
Guided Garden Walks    
For garden lovers we offer guided walks around our 10 acre garden, led by one of our experienced gardeners. Walkers will be introduced to the garden, its horticultural history and the people who have left their mark and helped shape the garden over the centuries.
First Thursday of every month during the season. 11am . See Events section for more details.
Latest News… The Iris River is in Flower!
It snakes like a blue river passing under five bridges who are now covered in white wisteria or the first of the white and blue clematis.
This 120 metre long serpentine of blue is planted with  the tall Iris siberica "Papillon" and is  one of the garden's highlights to see each year at the end of May.
Along its banks the planting changes between  each bridge. It may be banks of white wedding cake like Viburnun  mariesii in full flower, to banks of ferns and hostas, or calm grassy spaces dotted with small trees.
Commenced five years ago this is not just a ornamental garden,but a clever design to collect and drain off,through its dry river,any seasonal flood water to protect the lake field below from becoming a swamp. Which what it was until it was reclaimed.
NEXT WORKSHOP: ROSES FOR THE GARDEN AND HOUSE
WEDNESDAY 3rd JUNE 11am 3.30pm
A workshop bursting with roses! In the morning listen to expert advice on selecting, planting and caring for roses and in the afternoon be inspired by creative ideas to decorate your home with these wonderful blooms. The price of £45 includes a rose themed lunch with wine. Advanced booking is essential.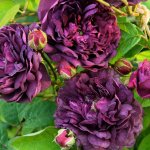 A SEASON OF OPERA AND MUSIC 2015
July 25th to August 2nd 
West Green  presents one of the finest country house opera seasons, fusing together the acclaimed garden with intimate, small scale opera. These nights are delightfully elegant occasions, with picnics by the lake under Raj style pavilions, fine dining by Mosimann's and customary black tie and evening dress. As each evening of music concludes, the garden with its follies and water features are illuminated for guests to enjoy.
Set in our glass sided auditorium, we offer a spectacular setting for our grand operas. We open with Mozart's dazzling comedy 'The Marriage of Figaro' and on the second weekend we present a new production of  'Ariadne auf Naxos' by Richard Strauss.  Our 2015 season combines these nights of grand opera with a programme of less formal " Fringe" events, including performances by the acclaimed soprano Joan Rodgers, a lunchtime event with Dr Rowan Williams and our very popular Midday Music events, perfect for the whole family.
For full details, please visit the separate West Green House Opera website on www.westgreenhouseopera.co.uk
"Chelsea Flower Show Silver Gilt Award"
WEST GREEN HOUSE AWARDED SILVER GILT AT  THE CHELSEA FLOWER SHOW
West Green House Gardens, represented at the  Chelsea Flower Show for the very first time, with an Artisan Garden titled " The Topiarist Garden" has received a Silver Gilt award".
Designed by Marylyn Abbott of West Green House "The Topiarist Garden" takes its inspiration from the courtyard  in front of the bothy here at West Green . Envisage the garden as the personal space for the Head Gardener who is influenced by the tradition of "Topia opera" - fancy gardening. In this small walled space, he  indulges his passion for eclectic topiary designs, haphazardly placed amongst his favourite white perennials, flowering climbers and delicate rose -Adelaide d'Orleans. Annual flowers  planted in a sunken chequerboard of pots make this space a fantasy of informality. He takes great pleasure in clipping topiary into flamboyant shapes. As he clips and shapes he hums quietly along to himself from Mozart's Madamma,il catalogo il questo;the "catalogue aria" which lists his master's conquests.
If you enjoyed our garden at Chelsea, or saw us on the BBC why not come and visit West Green House and inspirational 18th century Bothy and Courtyard Garden.